The invoicing feature must be configured for your company, and you must have the necessary permissions to access the "Invoices" menu. If you don't see this and think you should have access to invoicing, let us know.
Invoices can be created in 2 ways:
By using tickets list
Directly through the Invoices Menu
Clicking the menu button on the far right of a row shows the following menu.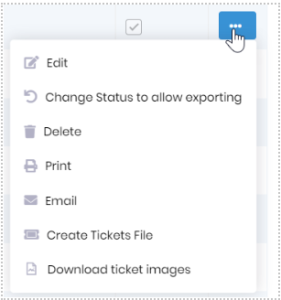 You can edit existing invoices by clicking on the "Edit" option at the top of the menu. This will open the invoice and allow you to edit it. 
There are options to allow you to delete, print, or email the invoice. The "Delete" option will not be available if the invoice has been deleted. 
The "Change Status to allow exporting" allows you to export an invoice that has already been marked as exported. This may happen when you export the file and then have errors in the file when you try to import into the accounting system. 
The "Create tickets file" will create a csv file with a list of the tickets. You can send this data to your customer if they want all the information that is on the tickets. 
The "Download ticket images" option will download a zip file with images of all the tickets on the invoice. 
Click on the "add new" button to create a new invoice.