The "Truck Dispatch List" is where you can see the status of all open dispatches. You can access it by clicking the "Truck Dispatch List" menu item from the main menu. Dispatches are shown in the form of cards. Completed and Canceled dispatches are never shown and there will be no row if there are no dispatches.
You can drag and drop the dispatches to rearrange their order.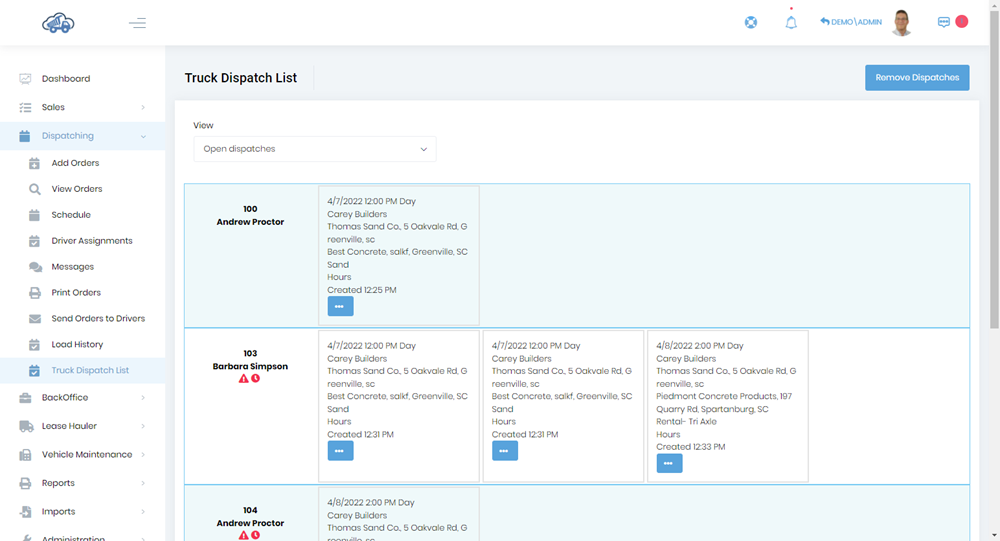 The options present under the ellipsis (…) button depend on the status of dispatches. The dispatcher typically doesn't have to interact with these options as the driver should be doing it from the driver app. However, if the driver is having a problem, the dispatcher can do the action for them.
View: this option is displayed for all dispatches.
Copy: this can be used for duplicating the dispatches. This option is displayed on all dispatches.
Acknowledge: Shown only for "sent", "created" state dispatches (note: the first dispatch is in "created" state in case of "dispatching via driver" application instead of "sent" state). This is not shown on dispatches having "created" states which are in the queue.
Add load info: shown only for acknowledged dispatches. This can be used for entering the tickets and completing the driver load info in case the driver is not able to complete it.
Cancel: shown for all dispatches.
Mark as delivered: shown only for "loaded" dispatches. You can mark the dispatch as completed using this option.
End multiple dispatches: present only on those dispatches which were sent as "Multiple loads". This menu is shown irrespective of the state of the dispatch.
Numerous views are available for the "Truck Dispatch List".  They are shown and explained below.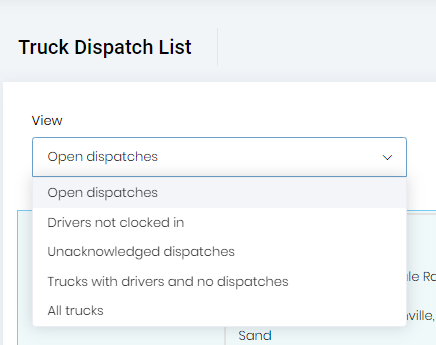 Open dispatches: It shows the open dispatches for the current date.
Drivers not clocked in: It shows the drivers who have not clocked in yet for the current date.
Unacknowledged dispatches: It shows the dispatches which are not acknowledged by the drivers yet for the current date.
Trucks with drivers and no dispatches: It shows the trucks which have drivers assigned to them and don't have any dispatches to work on. Trucks that have completed the dispatches for that current date will be shown again here.
All trucks: It shows all the trucks that are available and their dispatches as well (if they have any).
Problem indicator icons: These are shown on all truck dispatch list views when the current time has passed the driver's start time for that day or the default start time and the driver has not clocked in yet / not acknowledged the dispatch.
Unacknowledged dispatches status icon
 late clock in icon