For creating the invoices directly, click on the "Invoices" menu under orders.
Click on the "add new" button to create a new invoice.
Select the customer for which the invoice needs to be created. Billing address, customer email, terms will get populated automatically if that information is available for the customer on the customer page. However, you can edit these values on the invoice. After selecting the customer, you will be able to see a more button "Add unbilled tickets" (if the selected customer has any unbilled tickets).
You can either add unbilled tickets by clicking on the "Add unbilled tickets" button or you can add new line items manually by clicking on the "add new" button which will add a new line in the table. When you click on "Add unbilled tickets", you will see a dialog with all the unbilled tickets.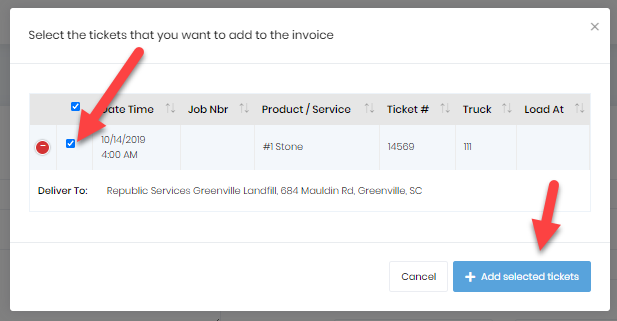 After selecting the checkbox for tickets, click on "add selected tickets" which will add these tickets to the invoice.
These lines can be edited directly by going to the cells in the table.
These lines can be deleted as well by clicking on the ellipsis button and then selecting delete. Details of "Associated tickets" can be checked by selecting the option "view associated ticket" present under the ellipsis button. The checkbox under the "tax" column can be checked or unchecked and taxes will be applied online items based on the tax method that is set in the "invoice" tab of the settings page and based on the designation of line items.
Once all the changes are done, you should choose to do one of the following actions available from the "Save" menu button.
Save  ( It will save all the changes done on the invoice)
Save and print  ( It will save and print the invoice)
Save and Send ( It will save all the changes done on the invoice and you will be able to email it to the customer)
​